I promised some sort of amazing prize-thing if ever I had 1007 twitter followers. Then I sort of forgot and then it sort of happened and then I sort of remembered and felt sort of guilty for not having thought about it.
So OK. Every now and then, there will be copies given away to new followers on Twitter. At random times around the start of each month, so there's no playing silly buggers, but that doesn't seem like much of a prize, because I'm guessing that most of the people who come and read this will have read The Adamantine Palace already.
Today's giveaway is a hardcover copy of The Last Dragon. It's the short story I wrote for Genre for Japan, and if you simply want to read it, it's available here for free. It's not long. I've made five hardcover copies of the story using Lulu – one for me, one for the cover artist (Su Haddrell), one for the man who comissioned it and two to give away. They are signed and numbered and there are unlikely ever to be any more. I'm giving away copy number five to the first person who can reply to this post with the correct answer to the following question:
The Salt Pool lies in the Mausoleum under Clifftop. How many full-size dragon skeletons hang there?
The answer is somewhere in King of the Crags. No read-ee book-ee, no get-ee prize-ee.
Here's a picture of The Last Dragon: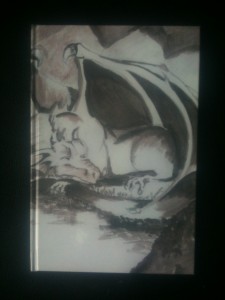 No tags for this post.