This weeks sees the publication of Empires: Extraction and Empires: Infiltration, and since it's alos Gavin's birthday (so Facebook tells me), it seems only appropriate that I bow to that and give away one of his books for absolutely NOTHING AT ALL (and hopefully leave the lucky victim to then go a pick up a copy of Extraction, thus availing me of the several pence of royalty payment, hahAAA, HAPPY BIRTHDAY GAVIN!) Gav and I also did loads and loads of fun internet things in a futile effort to gain your attention, but frankly I think my best bet is to give away lots and lots of copies of Gav's book…
Did I mention that you can read the first chapter of Extraction here?
The rest of the last week was spent doing the last edits to The Silver Kings, which now has a rather cool looking cover that I can't yet reveal because it's not quite finished and working on Dragon's Reach. Actually, there's quite a bit of Nathan Hawke stuff slowly bubblingat the moment, so here, for anyone who wants it and didn't already read it, is chapter one of The Crimson Shield.

Now to the giveaway: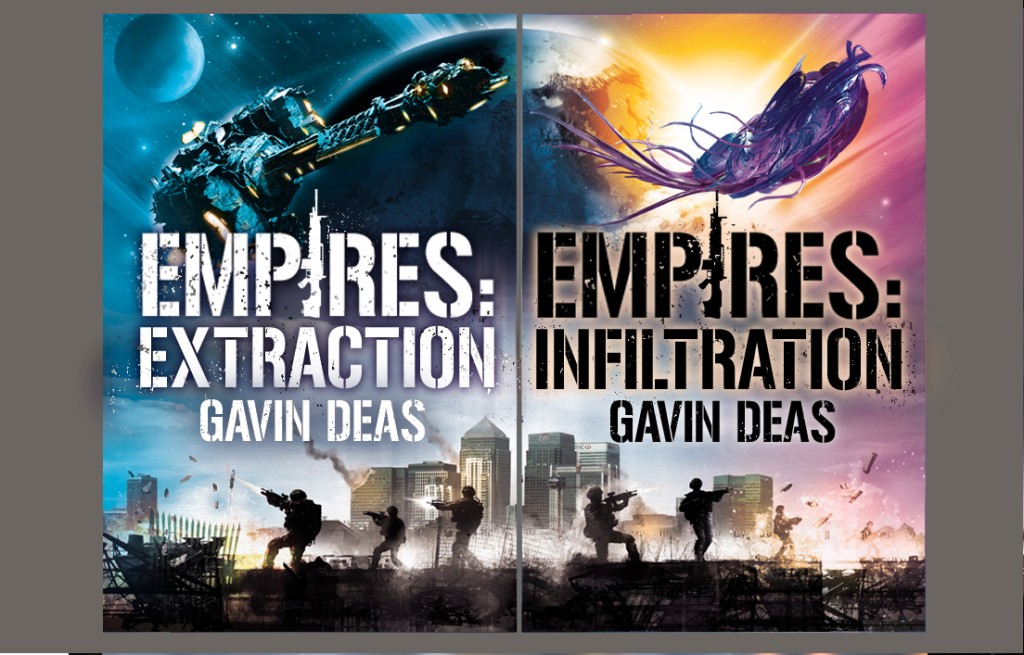 The covers are a bit of a clue as to the content. I think they're well suited for what's inside. In Extraction, it's basically badass aliens, snarky spaceships and sweary SAS men. I think Gav give Infiltration a slightly darker, edgier feel, but then the novels have their differences in what's going on around each protagonist. If you like you that sort of thing, the way the two novels both mesh and work on their own is pretty cool (yes I cutted and pasted that from last week. So sue me). This week's giveaway is Infiltration. There's a possibility I can get Gavin to sign it, but it's also possible he may be grumpy about giving his books away again.
Usual deal – comment on this post before November 23rd and I'll randomly select a lucky victim for a free copy. This week I'm looking for the most preposterous thing you can think of about any alien invasion story ever.
Although, though no one has yet complained about how long it takes me to get to the post office and post things, it can take a while and if you live abroad then it can take even longer. Sorry about that, but they do get there eventually. Well, so far. Am currently a bit behind.