It's been a busy couple of weeks, so please excuse the lack of more free books. It's been dragons and dragons and more dragons as well as some work on some proposals for what might come after dragons. I might post something about the benign annoyance of proposal-writing one day. But mostly it's been about getting The Silver Kings knocked into shape before Summer, and it's getting there, and another thing I might post about is how a character can come out of the background and take over what will ultimately be 700k words of prose. Thanks, Zafir. I think.
Usually I skip on to the free book about here. If that's what you want to do then that's find – scroll down past the cover art picture and you can skip to the end, but for the rest of this post I'm going to digress and rant a bit about top-ten lists and the difference between ignorance and bigotry, and it's going to start with my own top-ten list of the greatest explorers of all time. Here goes (in no particular order):
Christopher Columbus
Marco Polo
Vasco Da Gama
Ferdinand Magellan
Yuri Gagarin
Captain James Cook
David Livingstone
Ernest Shackleton
Alexander von Humboldt
Jacques Cousteau
This is a pretty crappy list in many ways. After I wrote it I had a look to see what the internet had to offer, which made me feel a bit better. Anyone who has a clue would doubtless squeal over various omissions (Sir John Cabot? Sir Francis Drake?). Cousteau and Gagarin maybe show a little more lateral thinking than than most (smug smug smugity smug), or possibly a desperation to get to ten . Yes, doubtless you could critique this top-ten list of explorers from her to Sunday, but let's just go in for the kill and point out that every single one of them is white and male. I did try (carefully without doing any research) to think of any explorers I knew to break that mold, and I couldn't (I think Amelia Earhart was the best I came up with). I had a lot of trouble coming up with ten at all. I was struggling after five or six.
I submit that the absence on this list of any explorers who aren't white stems from a considerable ignorance on my part rather than bigotry, at least on a personal level (one could argue ignorance stemming from systemic social bias and thus a passive bigotry). I made this list to make a point, although it really is the best I could come up without help. I'm quite certain there are explorers from Asia, India, the Middle East and Africa who contributed massively to their cultures. I'm quite sure that if I had bothered to do any research then I would have found out about them. I'm quite sure I would have found their stories fascinating and talked about them. I'm quite sure that if anyone were to look at my list of explorers and point out how Euro-centric it is and then pointed out some alternatives, I'd go and find out about them. I'm interested. I want to know more. I'm not as ignorant as it's possible to be but I know there's vastly more out there than I've discovered. So if you read my list and find it offends you with its monochrome, you could suppose it's simply ignorance on my part and try to educate me, and I'd like that very much. The likely consequence is that I will have respect for your opinions and values. I might listen to what you have to say in arguments about things other than explorers with a desire to be sympathetic to your point of view. Or you could tell me how bigoted it is and get in my face about it and very all your friends and make me feel stupid and a jerk. You could suggest I did no research and don't know what I'm talking about (and you'd be correct). You could tell me I'm an ignorant dick. You could do that. I don't think I'll be having much respect for your opinions and values if you do.
You realise that the bedrock of bigotry is ignorance, right? You realise that taking that ignorance and educating it makes a mind more open than closed, right? You realise that yelling "stupid" does the opposite, right?
So my plea to anyone who's still reading is this: the next time anyone posts anything on the internet (say, for example, their best SFF releases of 2014, just by way of something that might come around at some point), and it turns out to be full of white dudes, or otherwise excludes a large section of thought or society, grit your teeth and swear quietly in a corner and teach rather than torment. Pretty please?
OK. Done now. Thank you for listening. This week's giveaway book is a signed hardcover copy of The Thief-Taker's Apprentice.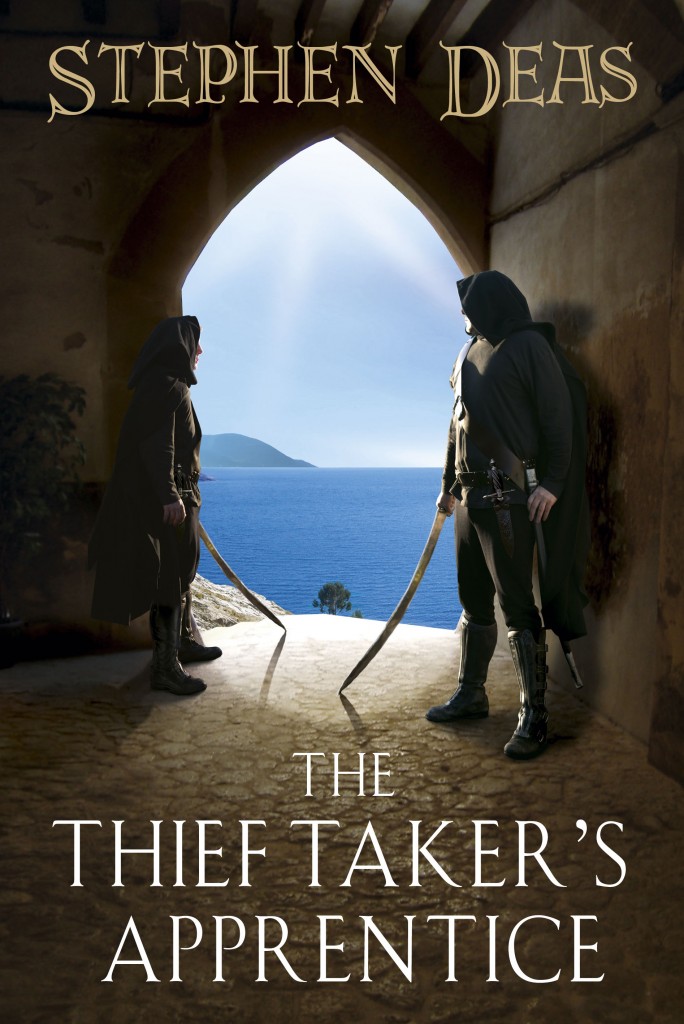 Usual deal – comment on this post before May 11th and I'll randomly select a lucky victim for a free copy. In addition, if anyone wants to play, I'm going to give away a an Angry Dragons T-shirt for the most interesting explorer anyone can point me at who isn't a white dude. You can enter as may times as you like and I'll count the first two entries – the rest are just for fun and showing off.
Although, though no one has yet complained about how long it takes me to get to the post office and post things, it can take a while and if you live abroad then it can take even longer. Sorry about that, but they do get there eventually. Well, so far. I am currently very behind so if you're waiting for a book from a previous giveaway then, er, sorry. They're packaged up now and should go in the post today.