When Berren makes the mistake of stealing a purse from a thief-taker, it should have condemned him to a short and brutal life in the slave-mines. So when the thief-taker offers to train him as an apprentice instead, he can't believe his luck. But Berren's new master has secrets of his own, and thief-takers and their apprentices are wont to make enemies far more readily than friends.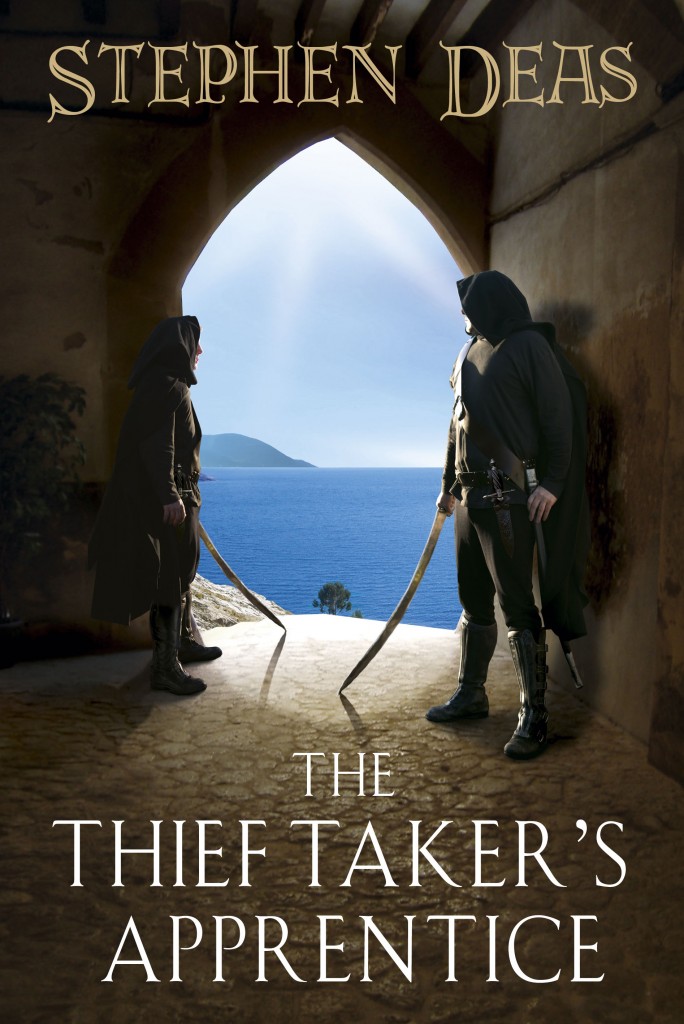 The first Thief-Taker's Apprentice was written as a stand-alone book back in 2006, largely. The Taiytakai and the Moon-Sorcerers of the Diamond Isles were both conceived back then. As of May 2009, Thief-Taker is now due to be published as a trilogy of short novels with the first, The Thief-Taker's Apprentice coming out in the UK on 26th August 2010. An early excerpt (chapter one) is here for those as are interested. The second and third books, The Warlock's Shadow and The King's Assassin followed in 2011 and 2012. For some of the stuff in the blurb, there, you have to wait until books two or three.
Other covers: Polish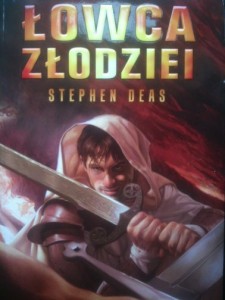 "[Has] the clear potential for a great series if the foreshadowing and hints of much deeper stuff materialize in further installments." Fantasy Book Critic
A rather nice review from Locus (you have to put up with scanned hardcopy for now):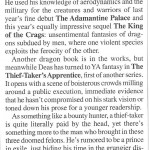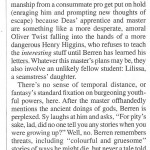 "An engaging tale" SFX (although noting that teenage boys can be, well, really quite annoying company at times. Yes they can.)
9.5/10 - "a gripping read, with engaging characters, that bodes well for future books in the series (and it has me that little more eager for 'The King of the Crags')" Graeme's Fantasy Book Review. Not going to argue with that.
… a cracking fantasy that deserves to be widely read and enjoyed. – My Favourite Books. With "sharp dialogue" and a "rich setting."

"This apprentice has potential. Please, Mr Deas, can I have some more?" Yes, International Writers Magazine, you may.
"This is very well realised and written fantasy." Civilian Reader.
"The characters are solid and the setting believable, and though the story takes a little while to get off the ground, the narrative developments are engaging, and there's enough action and revelations to keep the pages turning. The Thief Taker's Apprentice is the perfect adventure story for teens." Total SciFi "Online
"…great pace and some impressive depth…" The Wertzone
"…a story for all ages to enjoy…" SFSite
"like Oliver meets Graceling" The Bookette review
Or  very well written and full of action and adventure. The Fringe.
Some "truly brilliant moments" for The Booksmugglers.
"A good solid fantasy for all ages." Books for Life
The Fantastical Librarian "really enjoyed The Thief-Taker's Apprentice"

"Tautly told, this gripping adventure tells how following one act of outrageous boldness a young cutpurse becomes apprentice to the city's thief taker, a man driven by a powerful need to settle an old score …" www.lovereading.co.uk
"As a YA read I give this one top marks" – Fixed on Fantasy
"The Apprentice is a fun and rapidly moving fantasy novel with elements of coming of age and rite of passage, along with thieves, villains, pirates, rogues, wizards who seem to do nothing wizardry and pubs. Plenty of pubs." www.nudgemenow.com
Is the thief-taker more interesting than his apprentice? And how much, I wonder, does that depend on who you are? Or how young you are? See, the thing is, unless you are in your teens, the main character, he's not meant for you. LEC book reviews tries to consider the novel from both an adult and a YA perspective:
"With writing, plot and characters on par or above any other YA fantasy I've encountered, The Thief-Taker's Apprentice is an exciting start to a new series. This book deserves to find its way onto many, many bookshelves, be that of younger or older readers."
"…a great reintroduction to the fantasy genre: a well-written tale that well deserves a read." Jaime Reviews
"a slow-burning but skilfully crafted affair" Quippe
A couple from Australia too: "The characters are interesting and even mysterious … a good, well-written story for teens." Ysfetsos
"realistic, complex characters, with a realistic, complex relationship and adventures to match" Specusphere
But the world is a big place, filled with diverse opinion. here's another Australian: "'The Thief-Taker's Apprentice' by Stephen Deas is another example of mediocrity that shouldn't have been let past the editor's desk," Yes. Stupid editor. Blame him, but don't worry, the hose is quickly turned on me. We could also call it "very soggy and misshapen cake, or book, depending on how far we're taking this analogy." Why? Well because it plot has been "thrown against the wall like the proverbial pasta to see if it'll stick" with "one contrivance after another" and "Nothing is explained, everyone acts entirely unrealistically, and by the end of the book the characters you have been reading have as much depth as a sheen of water on the driveway." Crikey, Fantasy Book Review. That sure sounds like a that sucked as a reading experience. And I kept you up late and made you miss sleep and everything, even though you skimmed and skipped large chunks? I guess we weren't made for each other, eh?
And now some actual YA reviews (I think):
"I really enjoyed this book, I thought it was written very well and I really enjoyed how the author moved the story along quite quickly … I would recommend this book for young adults who enjoy fast paced books with lots of action. I would not recommend it for people who enjoy books that are happy and optimistic." from the Little Book Room.
Hmmm. Frankly, I don't think I'd recommend ANY of my books to people who want happy and optimistic.
The Apprentice is a fun and rapidly moving fantasy novel with elements of coming of age and rite of passage, along with thieves, villains, pirates, rogues, wizards who seem to do nothing wizardry and pubs. Plenty of pubs. Bookgeeks.

What amounts to a 'suitability for its target audience' review for Thief-Taker from Readplus in Australia: The novel does contain positive messages and meaningful themes for teenagers about growing-up too fast and wanting to live in an adult world before they are fully prepared to deal with the full consequences.
"Great combat, some magical twists and an author who plays for keeps which makes this title a book that really was a real joy to read." Tattys Treasure Chest
"…highly enjoyable and gripping." Scottish Book Trust
"…Berren's imaginary city is full of recognizable people and emotions all of which are brilliantly conveyed in Stephen Deas's spare and powerful storytelling" www.lovereading4kids.co.uk
"It doesn't necessarily change the genre in any groundbreaking ways; but what is available within it is pulled off so well, you can hardly blame him for it … any reader, young or old, should give this a try and see what I am talking about." Literary Musings
"…gripped me enough that I want to read the sequel! Great, unique storyline with well-crafted characters." Chicklish
"I would suggest this book to anyone who likes a darker world with very little magic and heroes who are not at always winning the fight." - KJ
Yup. Reckon I'd go with that.