…or how, after weeks of nothing much apparently going on, all the buses arrive at once. Yes, today there's actually some news. In fact, there's news about four different books and a couple of appearances…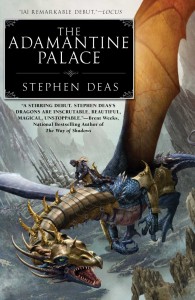 Firstly The Adamantine Palace is officially released in the US by ROC today, which seems as good a reason as any to show off the extremely gorgeous cover yet again. Love the Gollancz cover as I do, the little collection of first-edition ROC hardbacks now has a special place in my book cupboard. To, er… celebrate, there are a few interviews and articles from the last few weeks that are starting to surface. Here (interview with someone who actually read the book first!), here (complete with opportunity to win an autographed map) and here (so far). Also spotted: a late review in from Australia. Nothing that hasn't been said before in a different way, but I did like: "Mr Deas has, in my opinion, created the most terrifyingly natural and malign dragons to have ever graced the page." Thank-you. My work here is done.
At the same time, yesterday was the official UK release  for the mass-market paperback edition of The Adamantine Palace, and for anyone who's been waiting for the pocket-sized version, this one comes with the map. I'm not sure why, but it does. The Adamantine Palace is Waterstones' fantasy and science-fiction pick of the month for February, which is  a bit mind-boggling. It's also one of the local store's picks of 2009, but I think that might have more to do with local prejudice than anything. Credit where credit's due, though, they've been immensely supportive over the last year and I shall continue to sneak into their coffee shop with my laptop from time to time. There may even be an author signing event thing in April for King of the Crags – more on that when it happens.
On the subject of which, the proof corrections for King of the Crags are almost done. OK, not very exciting after all, so here's yet another pretty cover that you've seen before. King of the Crags will have the map in it too, by the looks of things. Sounds like an excuse to show off another gorgeous cover…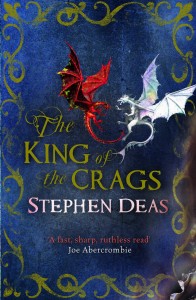 And then there's the SFX weekender coming up next weekend, in which I shall orbit like a piece of small cosmic debris around such collossi as Al Reynolds and Joe Abercrombie. If you want to come and snooze for a while in a quiet and largely empty room, I shall be reading from various works, some of which might even be my own, on the appropriately named Slaughtered Lamb stage at about 2:30. If Fantasycon was anything to go by, this will be a fine place to come for a bit of peace and quiet, and I promise not to read too loudly.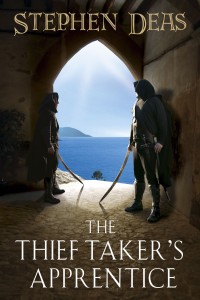 Covers. Yes. The big news of the week, of course, is the revolutionary, ground-breaking cover to The Thief-Taker's Apprentice, in which we bring you not one, but TWO hooded men. This audacious leap away from genre convention should be in the shops come August, and will doubtless be followed by a slew of imitators, culminating in covers with COUNTLESS HORDES of hooded men. When that happens, just remember who took that first leap of faith…
Work on book two, recently re-titled The Hooded Hordes will begin shortly.
Skipping ahead to The Order of the Scales, the first rewrite is all done bar the shouting. For anyone who's interested, this is a structural rewrite (if anyone cares, largely around the story-arcs for Kemir and the Adamantine Spear). The horrible snapping rending grinding noises are the sounds of plot-bones being snapped off and attached in different places. Despite the sound effects, though, the story feels much better for it. There's no cover I can offer up for The Order of the Scales, but I think we're seeing a pattern here, so I'm guessing a deep red background (so the series will colour-coordinate with your Lord of the Rings extended edition DVD set, which is only right and proper after all) and three dragons this time. I'm thinking two facing each other like on the Crags cover (green and blue to match the backgrounds of the first two books) and  a third one behind them, the white one, wings spread, coming out of the page. And increased cripsyness at the edges. But I know squat about designing covers, so don't imagine that any of that actually means anything.
In the absence of the actual cover for Order of the Scales (and I really can't wait, because so far these Gollancz covers have been great), here is a picture of Niagara Falls in the winter of 1911. My wife showed me this, having been passed it via a friend, friend of a friend, etc. etc. (so sorry, original photographer, copyright owner, and subsequent toucher-upper, but I have no idea who you are to attribute any credit) with the observation that it was a) a magnificant picture and b) would make an excellent fantasy cover. Just stick a sodding great dragon peering down at the man and there you go – the opening scene of King of the Crags (almost).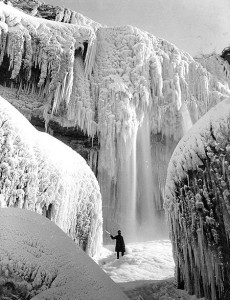 I can't quite tell, but f you look closely enough, is that fellow wearing a hood? Or is it just a ninja outfit?