I didn't go a giveaway last week because I'm buried in NaNoWriMo and writing a series of articles for Fantasy Faction about it (you can read the latest of them here if you like). In future, it's likely that whenever I have the urge to go have a rant about something relating to books, it'll be over on Fantasy Faction. I'll put liks up here for anyone interested.
Right now I'm in the midst of draft the second English Civil War detective story for Headline and at the same time plotting out the last of the dragon books for Gollancz and preparing proposals for What Comes Next. The last dragon book is going to be a bit of a pig because there are rather a more ends to wrap up than I'd quite realised.
What I want to know is: where's the love for Gallow? So this week's giveaway is a copy of The Crimson Shield by Nathan Hawke (i.e. me with the letters rearranged). No words, no title, no name, just Angry Man With Axe.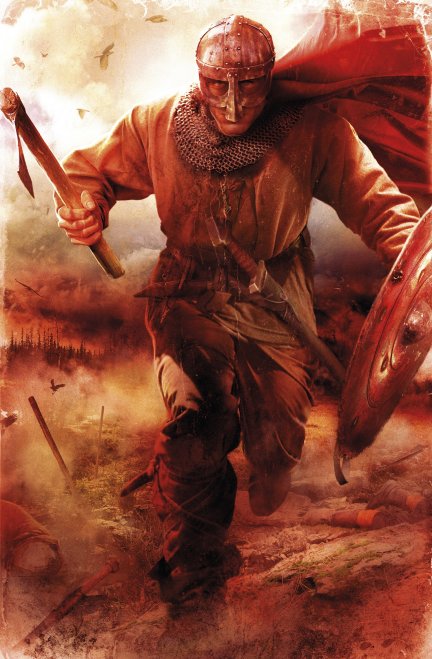 Usual deal – comment on this post before November 24th  and I'll randomly select a lucky victim for a free copy.
This week I'd like to hear your stories about jackass drivers. No names, please, and to enter the competition, you don't have to tell a story, you can just say hi; but if you want to get something off your chest, here's a safe place to do it (Note – Vent anything you like but I'll not tolerate any comments on comments that attempt, in my arbitrary and biased view, to start a debate, nor the explicit naming of anyone for being a jerk. My intolerance will manifest as deleting or editing comments. This week is about having a bit of a rant, not debates or potential libel. Thought if you just want to get it off your chest about, say THE LIVING DISASTER OF JACKASS LANE-DISCIPLINE AT THE MIAMI ROUNCDABOUT IN CHELMSFORD and the COCKHEAD in the Ambient Aroma (0r something similar) van, registration VU61 something-something, then you should be fine. And yes, I know I've mention this before. Anyone out there with an old they'd like get involved in low-speed prang to get it written off at the expense of someone else's insurance, it's definitely the place to go).
You can enter as may times as you like but I'll count the first two entries – the rest are just for fun and showing off.  Extra points for humour and originality and I've still got the Angry Dragons mug if you make me laugh, smirk or otherwise amuse me.
Although, though no one has yet complained about how long it takes me to get to the post office and post things, it can take a while and if you live abroad then it can take even longer (like weeks). Sorry about that, but they do get there eventually. Well, so far. Past winners, everything has been dispatched.