Strictly I supposed glaciers and fjords are a subset of rivers – what passes for rivers in places where the water never really thaws. Like Slatibartfast, I have a fondness for fjords. Basic fjords? Mountainous coasts that were once covered in ice for a long time (to make the glaciers that carved the valleys that become the fjords). Fjords generally have very steep sides and deep water and are a fine place for siting Impenetrable Fortresses Of Doom, since it's pretty hard to negociate a coastline full of fjords without doing it by sea. They can reach a good long way inland too.
Wikipedia tells you more on glaciers and fjords than you need to know for most world-building purposes, but  really, the point here are the pictures. Look at pictures of fjords and then try to imagine building a world without them? Not possible, right? Absolutely NOT possible.
Here's a less than perfect fjord picture. The point, really, is HOW THE HELL DO YOU TRAVEL THIS LANDSCAPE WITHOUT A FLY SPELL? This is why Fortresses Of Doom like to live in fjords.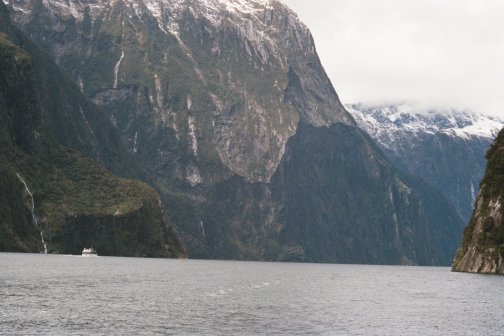 And here's a picture of a glacial lake. Just because. First person to name the mountain in the background right in the middle wins a copy of King of the Crags and Order of the Scales.