William Falkland is a dead man.
A Royalist dragoon who fought against Parliament, he is currently awaiting execution at Newgate prison. Yet when he is led away from Newgate with a sack over his head, it is not the gallows to which they take him, but to Oliver Cromwell himself. Cromwell has heard of Falkland's reputation as an investigator and now more than ever he needs a man of conscience. His New Model Army are wintering in Devon but mysterious deaths are sweeping the camp. In return for his freedom, Falkland is despatched to uncover the truth. With few friends and a slew of enemies, Falkland soon learns there is a dark demon at work, one who won't go down without a fight. But how can he protect Cromwell's army from such a monster and, more importantly, will he be able to protect himself?
The Royalist comes out a week on Wednesday. What is it? A historical crime thriller set in the depths of winter during the first English Civl War. This isn't my first forray into "straight" fiction – the Bulldog Drummond stories are historical adventures with no elements of the fantastic – but it's the first one that's a proper novel that will be sitting on the shelves of proper bookshops one day. For anyone interested, the opening chapter is available here.
I guess I'm well and truly back from my Summer break, and one thing I promised myself was that I'd start giving books away again once I was up to speed and caught up with the backlog. So with the last Bulldog Drummond novella now delivered and my Nathan Hawke alter-ego firmly in the writing driver-seat until I get back various editing notes, here goes – to celebrate its publication, I'm giving away one first edition hardcover copy of The Royalist, signed and dedicated however the lucky winner desires.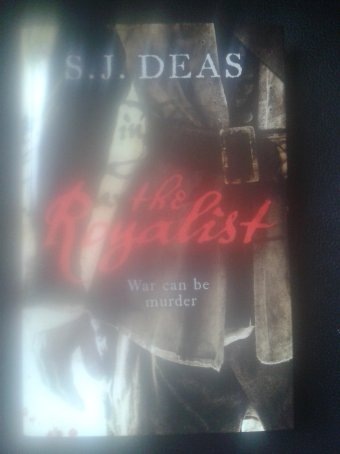 Is this a pretty crappy picture of the cover? Absolutely. But at least you get how SHINY it is (there's a decent copy of the cover art here). Yes. SHINY and LOVELY. I've never felt a hardcover that felt so nice and silky. Though I might be biased.
All you have to do to enter the giveaway is comment on this post before the end of  September 20th and I'll randomly select a lucky victim (the usual deal if you've been here before). If you have a favourite historical period in which you'd like to see a novel set, or a historical novel you'd really like to see written, I'd love to hear about it, but a simple "hi" will do.
This is open worldwide. Although though no one has yet complained about how long it takes me to get to the post office and post things, it can take a while and if you live abroad then it can take even longer. Sorry about that, but they do get there eventually. I am currently up to date with posting things.
No tags for this post.