Another year, and things are gonna change around here. At some point, the graphics of my site are all going to change. It's time, I'm told, to get a bit more dragony. So expect to see some of this…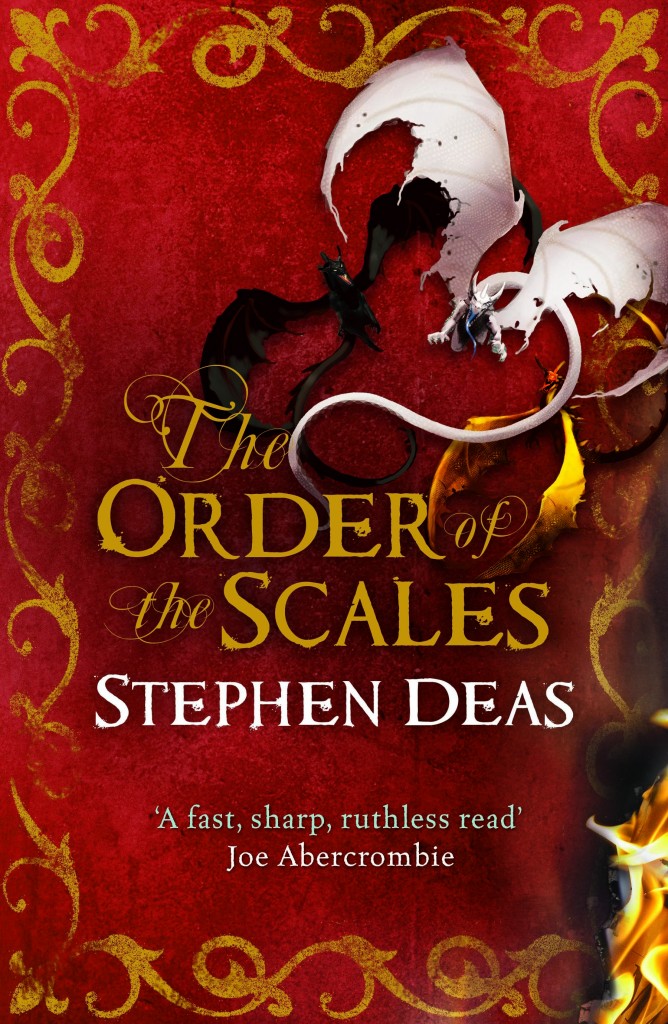 OK, it's not the final cover, which won't have the quote from Joe on it. But I'm an impatient man and bored of waiting for the final cover art (pokes editor gently with a stick. But only gently because I've just missed a deadline…)
WHAT? MISSED A DEADLINE? WHAT KIND OF AUTHOR DOES THAT?
A very shame-faced one in this case, because it's all my own fault. All I can say to anyone else out there who might one day find themselves in the same position is DON'T assume the manuscript you wrote six months ago is 'fine and just needs a bit of touching up' and leave looking at it again until a month before it's due for submission.
The good(ish) news is that The Warlock's Shadow will only be about two weeks late on my editor's desk, at which point I can go back to poking him with a large stick instead. About things like THE FINISHED COVER ART FOR ORDER OF THE SCALES,DAMMIT! (although actually, we should all feel a little sorry for the man, as he's had to pick up a load of extra authors on top of the too much work he already had, and I dare say a lot of them are every bit as annoying as I am).
In more dragony news, the rewrites for Order of the Scales are going fine and the first complete draft for The Black Mausoleum is now sitting on my laptop. Hmmm. Won't put off those rewrites quite as long with this one.
There are some other changes coming for 2011. I'm thinking of some slightly different content. I'll try not to be boring, but, tempting as it is to go into detail as to whether the VAT is or isn't a regressive tax, frankly I'm not that interested, and I suspect that goes the same for most of the people who actually read this. And it would be a huge piece of work. And then we'd get into arguments that would drag on for ages, and I'll disagree with you about stuff you believe in passionately because the foundations of almost every argument made either way are built on the sand of dodgy statistics, and if there's one thing that really gets my goat, it's dodgy statistics… There, see, ranting already!
<Runs off. Has cold shower. Comes back>
No. Expect the occasional post about Star Wars, gaming, and how five-year-old children absolutely understand Munchkin in a way it takes a mature adult years to learn.
Finally, 2010 ended with a couple of rather nice reviews for King of the Crags, anticipating (perhaps) its forthcoming US release.
"Stephen Deas has combined all that's good in fantasy and spun it around in a thriller-paced tale that will leave you breathless." The Ranting Dragon.
"Prince Jehal … is brilliant. One of the most complex, twisted and ultimately human characters I've read … When I think back over what I've read this year … I'm hard pressed to find one I enjoyed more than this one." SF Crowsnest
Happy New Year!