"…rapid battle scenes which stand out as some of the best dragon fights I've ever witnessed." SFbook
King of the Crags picks up right where The Adamantine Palace left off. There are a couple of major characters who now appear and one or two of the minor figures from TAP get a bigger role. The pace is maybe a little more measured than TAP. OK, a maybe *tiny* bit more measured. There are deaths, oh yes. And burning. Much, much burning. There are a couple of characters who might be mistaken for the 'good' guys, although I'm not saying how long they last before they get eaten. And a few secrets of both the dragons and the alchemists are beginning to leak out.
Ideas from early drafts for a lengthy chapter on dragon anatomy and a cameo appearance by a flight of were-ducks have been ditched; however they may reappear… elsewhere.
For the truly dedicated, there is a map here and the ALL-NEW alternate prologue here
UK Cover with dragons by Domonic Harman:
US cover art by Stephen Youll:
French cover by Alain Brion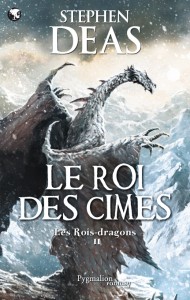 Reviews:
"As sharp as anything by George RR Martin or Joe Abercrombie . . . the new fantasy has another new star." – SFX
Look, they said the 'M' word. THE 'M' WORD! Frankly who needs more?
"A fiery, eventful read" .. "refreshingly fast paced" – SciFi Now
"Beautifully written, excellently plotted and above all a descriptiveness for the world that is almost photographic." Falcatta Times.
"I can only hope Deas returns to his world, not with rosy visions of restoration, but to give his humans some reason not to pack it all in…" Locus
"Fans of grim epic fantasy will find these intrigues engrossing." Publisher weekly
"…characters like Jehal and Kemir shine, the world feels more solid and interesting, the battles are well-described and the various plots twists are more ruthless and startling than anything else this side of Paul Kearney and George RR Martin…" The Wertzone
"Stephen Deas has combined all that's good in fantasy and spun it around in a thriller-paced tale that will leave you breathless." The Ranting Dragon.
"Prince Jehal … is brilliant. One of the most complex, twisted and ultimately human characters I've read … When I think back over what I've read this year … I'm hard pressed to find one I enjoyed more than this one." SF Crowsnest
"Overall, a very strong sequel and one of the best second entries in a trilogy I've had the chance to read. In the final paragraph of my Adamantine Palace review I said that The Adamantine Palace was not top notch…well…forget that. It might have been on its own but with The King of the Crags as its sequel it now certainly falls into that category." LEC Book Reviews (see that bit about The Adamantine Palace – a series should be more than the sum of its parts).
"This is, quite simply, some of the best fantasy writing I've read in quite some time. This series is highly recommended." CA Reviews.
"Stephen Deas successfully delivers another wonderful and exciting fantasy novel, just as enjoyable as his previous one" SFF Chat
Another review of TAP/KOTC
"The first book was a marvellous debut.  The second book trumped it hands down.  The excitement, thrills and spills anticipated in the final book promise to be an incomparable fantasy ride." M/C reviews
"…filled to the brim with murder, revenge, double-dealings, politics and power grabs…" Monsters and Critics

The writing is still sharp, right to the point, without being excessively extravagant and just harsh and biting enough to give it some edge. … Bring on The Order of the Scales, I'm hungry for dragons eating useful food! A Fantasy Reader

The Booksmugglers seem to be converted. "Questions aside, I finished reading The Adamantine Palace only just about interested about reading this sequel. I closed The King of the Crags knowing for a fact that I will be picking up the final instalment in the trilogy come rain or come shine."
Not the only one: "And I won't be waiting to read volume 3 when it eventually arrives." Lowly's Book Blog (and that's meant in a good way).
"…a wonderful follow-up to The Adamantine Palace and I enjoyed reading it even more than I did the first book." Night Owl SF
So Crags is better than The Adamantine Palace? Not every one seems to think so.
"I also sincerely dislike the fact that I now have to wait for the next instalment to find out what happens next. *Pokes Stephen with a pointy metal stick* Write faster!!"
". . . the tension that made The Adamantine Palace so addictive runs throughout this sequel . . . The Dragon War that rages throughout the final stages of the book is simply superb. . . An impressive sequel that boasts the same flare and excitement of its predecessor." Total SciFi.
"…even more brutal that the first one, darker and more cynical with no-nonsense and sentimentality…" Fantasy Book Critic
"A fairly successful stab at viciously political fantasy." Kirkus Reviews (who assert they are the world's toughest book critics; although I take that with a pinch of salt, I'll take the review too).
"the second best opening I've ever encountered after 'Tigana'" (Pauline's Fantasy Reviews, who would like some nicer characters I think)
Still not bad then. But then they did rather like the first one. However, for some, the slight change in style seems to have come as a real disappointment. I guess you can't please everyone.
"In The Adamantine Palace Deas went all out and told an amazing story at a break-neck pace and that was lacking in The King of the Crags. While I still plan to continue reading the series I hope that Deas returns to a faster plot for the third book."
Some reviews are simply… curious…
"Readers will appreciate soaring through the skies of the Realms" OK, but… "…this is no cozy." Eh?
However, the most heartfelt reviews of all are those written by readers who are simply that and nothing more:
"You built an amazing world, populated it with a rich range of believable characters and peppered everything with minor NPCs and backstory galore — speaking as a roleplayer, I would love to be in any game you GMed."
It's not a wish I can fulfil, but it's one I wish I could.
If there's a plan for book three, it's to rattle along like book one but with the depth of book 2. Best of both? Falling between two stools? Read it and see…