There's Karatos, the alchemist sentenced to death for being what she is. There's Siff in the next cell. His death sentence is for killing four soldiers with his bare hands even though he has no memory of how he did it. There's Skjorl, the Adamantine Man whose job it is to watch over them.
Thing is, though, Siff knows something. He knows something that might just change the fate of the world and right now, any change at all is looking like a good thing. So Kataros has to get him out, so he can show her what he's found, and never mind that he's likely going to stab her in the back the first chance he gets. To get him out, she needs Skjorl, even if the Adamantine Man would rather stab himself than help someone like Siff, and that's only the start of what he'd do to her.
And then there's the dragon. The dragon doesn't hate any of them. It's a dragon. It simply wants to eat them.
The Black Mausoleum. Someone's going to die.
Chapters 1 and 2 are available online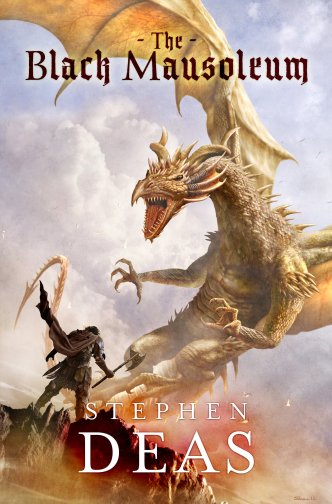 Actually, it's probably that guy on the cover, isn't it.
Review from the British Fantasy Society: "a cracking pace throughout … Well told, nippy, and chock full of twists and turns."
Review from the Falcatta Times: "characters that step from the page into the readers mind with such a vivid presence that you'll form attachments with them all whether you love or loath them"
Review from A Fantasy Reader: "…if you like action and character driven plot with scorching fire around the corner, you'll be satisfied."
Review from Pauline's Fantasy Reviews: "…a tautly-plotted action-packed story, with perfect pacing and a terrific blend of character-driven incident and convincing world-building, a totally enjoyable read that I raced through in a couple of days because I just didn't want to put it down. A good four stars."
Review from the Ranting Dragon: "Deas has a knack for writing dark and morally ambiguous characters that even George R.R. Martin should envy. Most of all, though, his novels are pure, high-speed whirls of action, suspense, and drama, written with formidable, horrifyingly vivid prose."