The first cut of a cover for The Adamantine Palace has arrived. I would post it up, but apparently it's corrupted in such a way that only Windows Photo Gallery can open it. Go figure. Eventually, when I work it out, I'll put it up here. OK, OK, now I know the difference between cmyk and rgb. Or rather, I know there is a difference. So here it is. I hope…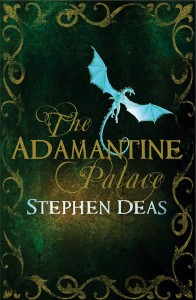 King of the Crags is about half done. Give or take. OK, will definitely be half done by the end of FantasyCon.
No tags for this post.