Berren has lived in the city all his life. He has made his way as a thief, paying a little of what he earns to the Fagin like master of their band. But there is a twist to this tale of a thief. One day Berren goes to watch an execution of three thieves. He watches as the thief-taker takes his reward and decides to try and steal the prize. He fails. The young thief is taken. But the thief-taker spots something in Berren. And the boy reminds him of someone as well. Berren becomes his apprentice. And is introduced to a world of shadows, deceit and corruption behind the streets he thought he knew. Full of richly observed life in a teeming fantasy city, a hectic progression of fights, flights and fancies and charting the fall of a boy into the dark world of political plotting and murder this marks the beginning of a new fantasy series for all lovers of fantasy – from fans of Kristin Cashore to Brent Weeks.
I suppose this only came out four years ago, but it feels like a very, very long time has passed, certainly long enough to have a moment of sober and self-critical reflection. The thief-taker's Apprentice is certainly not the best book I ever wrote. Whether it's the worst I suppose depends on where yout tastes lie. I happen to think that the sequel, The Warlock's Shadow, is vastly better. It was my third (published) book and markedly differed from the first two in its focus. Where The Adamantine Palace sprawled across a dozen and more characters and locations, filled itelf with conspiracy and dastartdly deeds and sacrificed character development for pace and scale, The Thief-Taker's Apprentice went the opposite way. It is a small, quiet, intimate story focussed entirely on two characters and set almost entirely within the walls of a single city. It was originally intended as a young adult story for boys, which takes a little edge of the sex and violence (although only a little). It certainly has its flaws (Berren's 'love interest' is a flimsy two-dimensional character, intended as a reflection on the shallowness of early teen crushes and to be contrasted against the passions of his first real love in The Warlock's Shadow; but of course, you don't know that when you read Apprentice, and so it's just shallow. And then there's the single scene which switches the point of view to show the reader something that the protagonist simply cannot know, and that was really clunky).
Reviews, such as they were, were consistent – decent enjoyable stuff, doesn't set the world alight, so forth. But the world is a big place, so do go and enjoy the one evisceration it received: "'The Thief-Taker's Apprentice' by Stephen Deas is another example of mediocrity that shouldn't have been let past the editor's desk," Why? Well because it plot has been "thrown against the wall like the proverbial pasta to see if it'll stick" with "one contrivance after another" and "Nothing is explained, everyone acts entirely unrealistically, and by the end of the book the characters you have been reading have as much depth as a sheen of water on the driveway." I guess we weren't made for each other.
On the whole I personally rate it as a 3-star book. It's perfectly good, perfectly readable, nothing hugely special or memorable. It's no Royalist or Crimson Shield or Dragon Queen, but it does start a story that carries on into Dragon Queen, which remains the best fantasy I've done. All of which probably isn't much encouragement to drop everything and rush out and buy a copy, but fortunately you don't have to, as I'm giving one away.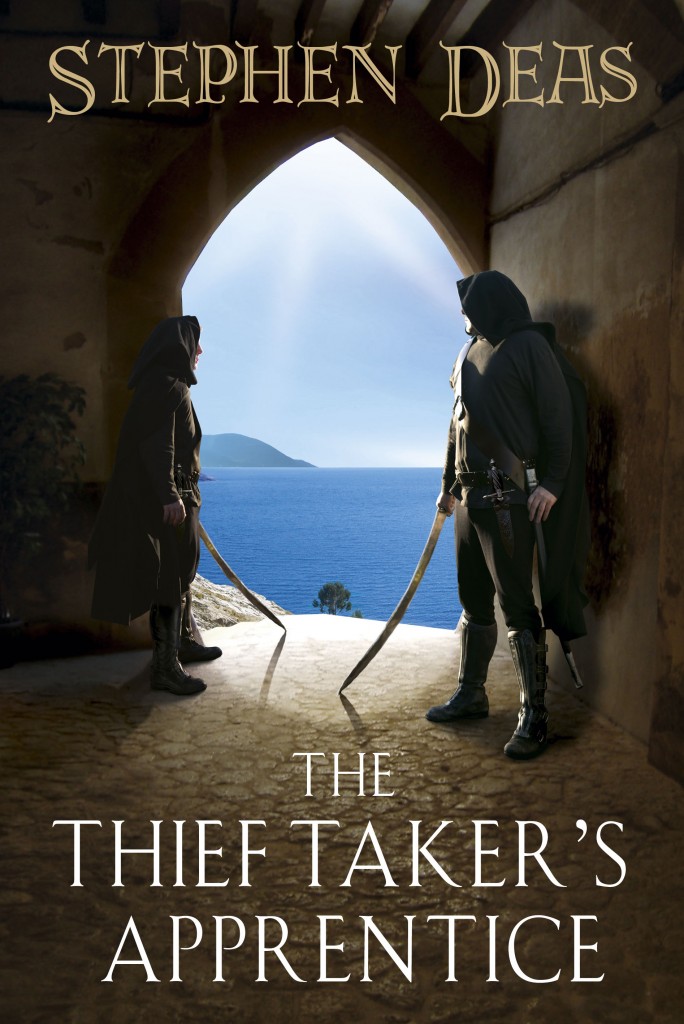 All you have to do to enter is comment on this post before the end of  September 27th and I'll randomly select a lucky victim (the usual deal if you've been here before). If you have a favourite historical, fantasy or SF novel which you think is a hidden gem but which no one else ever talks about and which vanished without a trace, I'd love to hear about it, but a simple "hi" will do.
This is open worldwide. Although though no one has yet complained about how long it takes me to get to the post office and post things, it can take a while and if you live abroad then it can take even longer. Sorry about that, but they do get there eventually. I am currently up to date with posting things.
No tags for this post.