This week, thanks to the kind ediors at Gollancz, I have an ARC of Poison by Sarah Pinborough to give away.
"…a beautifully illustrated retelling of the Snow White story which takes all the elements of the classic fairytale that we love (the handsome prince, the jealous queen, the beautiful girl and, of course, the poisoning) and puts a modern spin on the characters, their motives and their desires. It's fun, contemporary, sexy, and perfect for fans of ONCE UPON A TIME, GRIMM, SNOW WHITE AND THE HUNTSMAN and more."
I haven't read it yet, but knowing Sarah, expect something sharp, sexy and deeper than it look.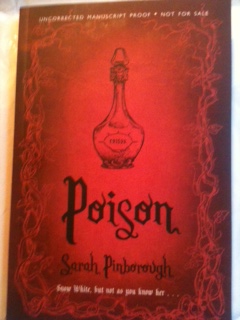 Usual deal – comment on this post before January 19th and I'll randomly select a lucky victim for a free copy of the book. No special requests this week, just any old comment will do.
Although, though no one has yet complained about how long it takes me to get to the post office and post things, it can take a while and if you live abroad then it can take even longer. Sorry about that, but they do get there eventually. Well, so far.