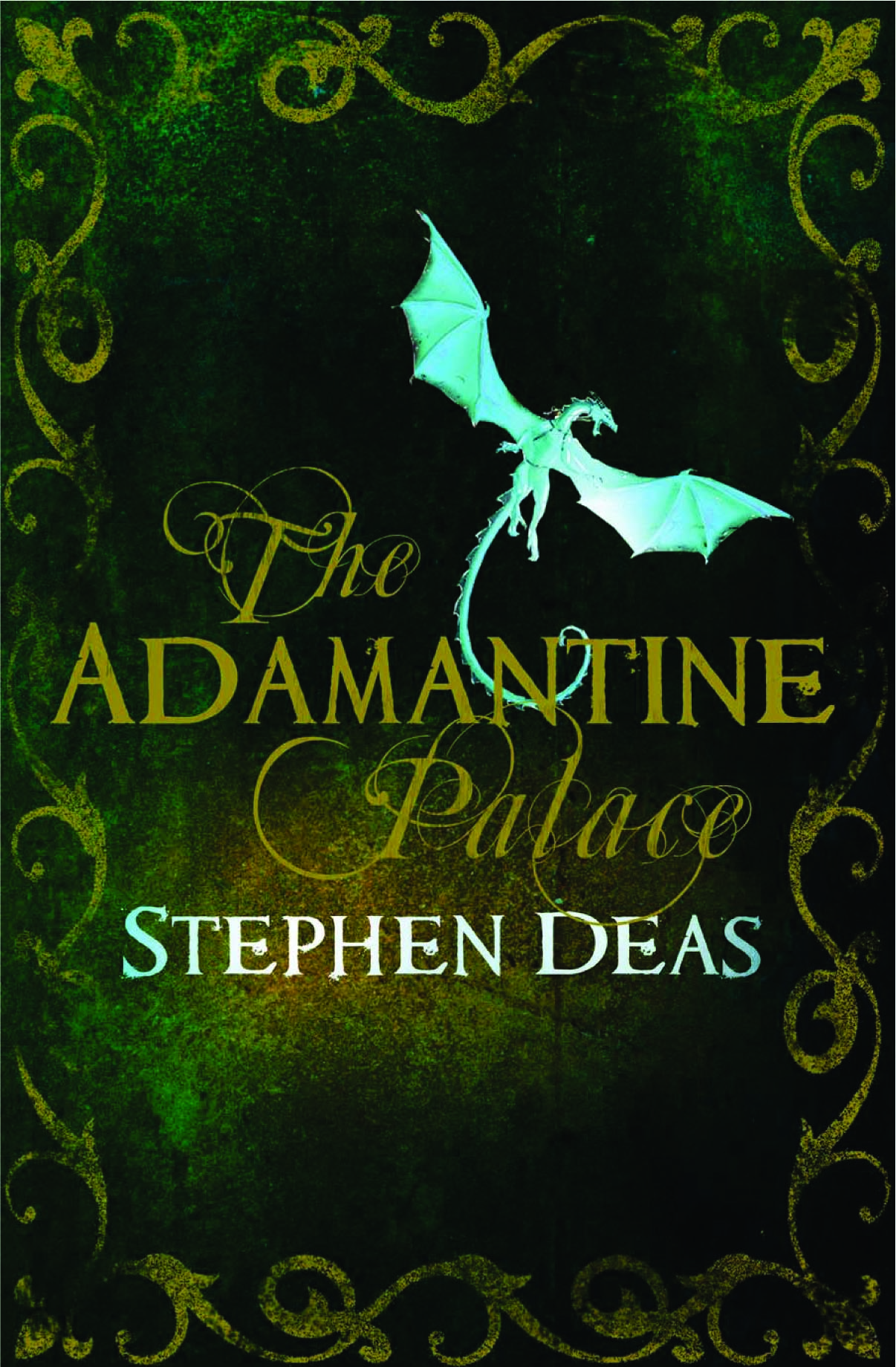 View the trailer, read an excerpt or see the map…
So how did this come about? You can thank/blame Simon Spanton at Gollancz, and my agent John Jarrold for sending him my way. I'd spend the last couple of years writing books far faster than anyone was reading them, I had a backlog of several years of submissions queuing to be looked at and I was looking for something else to do. I'd probably been annoying the hell out of John bugging him every few weeks about what was going to get sent out to whom and when. Patience, is one of those virtues where someone else got most of mine. Simon, meanwhile, was on the hunt for someone who'd write something sexy, snide and action-packed with dragons in it. No busty bimbo riders either (I think that's a quote, but I could be wrong).
It just so hit the spot. It took me and my muse a weekend to sketch out the skeleton of a trilogy and everything to fit together perfectly almost first time (this happens more often than you might think). I think it took about a week to send a first pitch back to Gollancz. Five chapters, one trailer and one synopsis later and we had a deal. The day after that, the Germans bought it too. After two decades of getting absolutely nowhere, that big blue hand that works for the Lottery was finally pointing at me. Or that's how it felt. Mostly still does.
TAP is finished now. Whether it's sexy, snide and action-packed you can judge for yourselves, but the dragons kick ass. I think that's one thing all the reviewers agree on.  They aren't reasonable, rational, thinking creatures, they don't speak in a clipped English accent, they aren't cute and cuddly, you can't bargain with them and they don't have a convenient weak spot just under their left armpit. They were (and still are) a lot of fun to write.
I think this is a pretty comprehensive list of reviews as of June 2009, by the way, at which point I pretty much gave up keeping track. So sorry if you got missed out:
"…the combination of the fantastic with keen observation and sheer impudence reads something like Anne McCaffery as filtered through the mind of Oscar Wilde." Locus (and yes, I liked that one so much that I transcribed it)
"A fast, sharp, ruthless read." Joe Abercrombie
"These are the predators; the ones that floss with velociraptors. … One of the best fantasy books of the year." Blood of the Muse
"…will appeal to fans of both classic and contemporary fantasy. In short, Gollancz has discovered another winner" Fantasy Book Critic (who later list King of the Crags as one of their top ten anticpated novel of 2010)
"With a marvellous sweeping prose, a twisting plot and a lead character that is both venomous and awesome, this novel screams out for attention it rightly deserves." SF Crows Nest
"The book is an entertaining mix of Pern and Westeros, with the knowing characterisation of Abercrombie and the endearment of Novik." SFFworld.
"This is a terrifying appetiser from what will surely be seen as a landmark in dragon-orientated fantasy." dwscifi
"…full of everything that I like about fantasy right now; strong characters, a complex plot and loads of dragons." Graeme's Fantasy Book Review.

"Roll over McCaffrey, there's a new Dragon Lord in town." (Gareth Wilson FALCATTA TIMES )
"The characterisizations and pace of the book are excellent. The dragons, especially, make for an interesting story all on their own." Bookgeeks
"…what I like most about The Adamantine Palace was the level of excitement that accompanies each moment of the book. This excitement grows with each page causing the reader to literally sit at the edge of their seat waiting for the exciting conclusion." Whatchamacallit Reviews
"…an absorbing, satisfying read with plenty left in the locker for the future instalments … Dragons are back at the top of the food chain, in all their fire-breathing primal glory." Speculative Horizons
A review of TAP and KOTC together: "The first book was a marvellous debut.  The second book trumped it hands down.  The excitement, thrills and spills anticipated in the final book promise to be an incomparable fantasy ride." M/C reviews
Mike at King of the Nerds sums up what I was trying to achieve with the dragons perfectly: "Yes and while you might let out a cheer when you first meet [the dragon] it dies in your throat pretty quickly leaving you with an uneasy sinking sensation in the pit of your stomach and the sudden need to back away very very slowly.  I loved that." Others may feel differently, but that's exactly the reaction I wanted.
Or try this from SF Crows Nest:
"With a marvellous sweeping prose, a twisting plot and a lead character that is both venomous and awesome, this novel screams out for attention it rightly deserves. It's a novel that clearly acknowledges its debt to the dragon sub-genre but is so strongly plotted through its characterisation that it pushes itself up into the realms of high political fantasy to threaten the likes of George R.R. Martin and Robert Jordan."
"Deas has a deft hand with worldbuilding and history. I absolutely loved all the strange and sinister little touches, like the Scales, that he put into his world. I could have gobbled up twice what he put in without blinking." Smouldering Ink
"I highly recommend The Admantine Palace to all readers of fantasy. Even if it has been years since you last read a book about dragons, don't hesitate to give this one a try. You will not be disappointed." SFF Chat
"The blend of action and politics was a good one, just enough on both sides to make you anxious to get back to each piece as the point of view changed from chapter to chapter." Tea and Tomes
"A word of warning: If you like this book by page 50, be sure that you have the next volumes at hand. You will want to continue reading after you finish this book." Weirdmage Reviews
"It's not a deep work, but I found The Adamantine Palace refreshing, unique, and engaging." It Didn't Happen
Now some people have read The Adamantine Palace and hated it, I guess. Maybe for exactly the reasons this reviewer loved it so much. But it's still a real kick to read a review like this and know that there's someone else who read my words and got out of it what I was trying to put into it.
It's not all roses though. The other half of the world apparently would have liked another 100 pages to flesh out the world and the characters (The Ranting Dragon sort of sums up the dilemma: "Though you will immediately notice the depth of this world, it has not been given the attentions it deserves yet. However, that is what gives The Adamantine Palace its tempo, and I'm unsure if that's such a bad thing." Yes, the exploration of the world in TAP is skeletal. A deliberate choice that came with running the story on rocket fuel – interesting that there's almost exactly a 50/50 split in opinion as to whether it was a good one or not. If you want to explore the world without the story, go help yourself to the free gazetteer and map). Generally they still generally say rather nice things. So I guess it's a matter of what presses your buttons.
"A blisteringly well-written tale … an inspiring debut." Sci-Fi Now
"First-time novelist Stephen Deas has certainly passed the Novik test." SFX
"The story runs like a whippet." Deathray
"a quick, fun political thriller on the same level as a Hollywood blockbuster or modern video game that uses dragons cleverly enough to feel somewhat original." from Neth Space
"Short chapters, with alternating points of view, set a cracking pace from the outset. The language is vibrant with dialogue that moves the story briskly along, yet revealing the levels of political machinations throughout." Temple Library Reviews
"If Christopher Paolini decided to go on a meth-fueled writing bender he probably still wouldn't come close to writing his dragons so devilishly." Oh, wait, not that bit… this bit "…short, tight chapters that push the story along in a Thriller type fashion. However, the pushing is at a sacrifice to the characters and the world-building." from the Mad Hatter
"A promising start to a new series from an author worth watching." Waterstones.
"The Adamantine Palace is a fast, furious and entertaining book that grabs hold of the reader and whisks them off like a rollercoaster. The dragons, as promised, indeed kick ass." The Wertzone.
"Mr Deas has, in my opinion, created the most terrifyingly natural and malign dragons to have ever graced the page." AntiSF
"…fast, furious and action packed…" Vilutheril reviews
"In summary though this is an entertaining and enjoyable book that definitely left me wanting to know what happens next…" The Bookling
"a whole heap of rip-roaring fun and no mistake." (Pauline's Fantasy Reviews.)
"In short: dragons, intrigue, poison, mercenaries and a Big Dark History. If you like that sort of thing then this is definitely worth a look." Sandstorm Reviews.
"It finally begins to come to life on page 135, when we get up close and personal with a wonderfully unusual dragon … If Deas can improve his world-building skills … [spoiler deleted] … future books in this series will certainly be worth reading." Lisa Tuttle, the Times online.
"Deas' novel reminds me of nothing less than the much-praised Song of Ice and Fire series… with dragons!" Libris Leonis, although finding the twists and turns of the last few chapters too much.
"The dragons are frighteningly compelling and the desire to see how all the political machinations play out make Deas's debut a page-turner." The San Francisco Book Review
"On the whole though, if you're a fan of George R. R. Martin's brand of intrigue-heavy plotting, or Joe Abercrombie's style of heavy realism, or even if you just like dragons, you may well find this a worthwhile addition to your reading list." The Specusphere
"…a fast, fun escape into a world with just enough political intrigue and some pretty nasty dragons." Nethspace, who also is astute enough to observe that the enslavement of the dragons "has subtle parallels to aspects of our own world culture and leads to some interesting and troubling questions." Yes. Indeed.
…a great book and well worth the read. Ty's Book Review, but
"It can be difficulty to distinguish one villain from another as they all seem bent on outdoing one another." Fresh Fiction Reviews
The book smuggler pretty much sums it up with "I swear that to read this book, is probably the closest you will ever get to being inside say, the Borgia's inner circle." and "…the plot in this book is utterly fascinating…" but "I am, essentially a character-driven reader who missed someone to connect with and to truly root for (or even against)." It's true that most of the characters are selfish bastards. It's pretty clear that for some people, this works, and for others, it really doesn't. Alternatively: "If you are looking for a fast paced story, this novel will deliver. But if you also want characters you care about (either love or hate), or a new world with a deep history, like me, you might be disappointed." Alright already. We have a sizeable body of opinion now. A character to root for. A bit more depth. Can it be done without losing the pacing? Only the reviews of King of the Crags will reveal the answer.
Some people just seem a bit bemused.
"[Dragons] … restored to all their scaly fire-breathing glory." The Daily Telegraph
One person gets it but loathes it. There's always one.
"It is all glitter." Strange Horizons
True, perhaps, but very, very shiny…
OK, now it's two (somehow I missed this one back in 2009. Probably as well):
"Stephen Deas' commitment to telling a good story is laudable – it is hard not to appreciate the many individual twists and turns, even if they seem to be for naught. Similarly praiseworthy is the aggressive abandonment of traditional world-building, whether I'm comfortable with it or not." But "Without understanding (or caring) more about the characters, it is impossible to understand how the pieces fit together – or what value they have." – Pornokitsch
Shame, because I think he might have appreciated where the second and particularly the third book better, and a trilogy, done well, should always be more than the sum of its parts. But you have to judge each book alone as you see it too. Ah well.

Other covers: France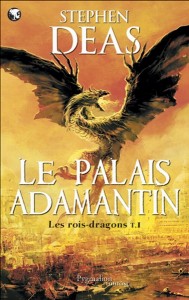 America
Americ Poland