The Warlock's Shadow, sequel to The Thief-Taker's Apprentice, is published again tomorrow (which might be today by the time you read this). It's been around as a hardback for a while but this edition is the dainty and cute little paperback one that fits into your coat pocket.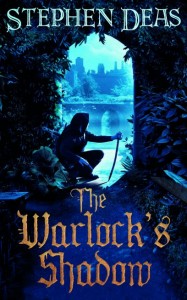 Some time has passed since the events of the Thief-Taker's Apprentice. Berren's being taught to read and write during the day, a process as painful to his teachers as it is to him, and how to fight with a wooden sword in the evenings when the thief-taker isn't bodyguarding passing drunkard princes. If you've read The Thief-Taker's Apprentice then you'll know that the thief-taker most definitely has a murky past and possibly an even murkier friend. Well here it comes.
The thief-taker and his lad had, if I read the internet right, a small but quite enthusiastic readership. I hope you all like this as much as the first one. Of all the books I've written so far, this one gave me the most trouble but I think my editor and I between us have beaten out the flaws and polished up a gem to equal the first one if not better it. I hope you like it. It does have a bit of a cliffhanger ending but the third book in the series is out in October – the proofs arrived for me to do yesterday – so the wait isn't so long.
The Warlock's Shadow is only available in the UK, Australia and New Zealand (I think). It's certainly not available in the US except as an import and so far I haven't found anyone who can tell me how to get it as an ebook in the US either. There doesn't seem to be much I can do about this and posting copies out to the US costs most than the book itself. What I can do is offer a couple up to give away. As with all the others, comment on this post saying something like "me me me" and I'll randomly choose two 'winners.' The different this time is that for one of the copies I'm ONLY going to randomly choose among people who comment from countries where the book isn't available – so if that's the case, say so (otherwise I won't know and you won't go in the second pot). Everyone who comments gets a crack at the second copy.